Git Work Done, & Git Paid
Without the hassle of interviews, hiring, firing, and contracting.
Project owners may fund individual Git issues with a monetary value.  Developers may complete work, and if their pull request is accepted the amount will be paid out.
Git your issues done!
Place a bounty on your GitHub issue.
Contributors will apply to claim your bounty.
Approve a contributor to begin work.
Review the pull request from the approved contributor.
Accept the pull request and pay out the bounty amount.
For Funders
If you are looking to git work done.
Fund an Issue
Post your bounties and wait for the applicants to send the request.
Multiple Revisions
If you are not satisfied with the submission, request the revision from your contributor.
Receive Offers
Receive offers on your Git Issues, If price is not feasible you can counter the offer.
Secured Payments
You only need to pay the contributor when the Job is complete and approved.
For Contributors
If you are looking to work on available bounties.
Apply on Bounties
Explore the funded Issues on Explorer page and apply to work with the Funder.
Open Pull Request
When you are done with task, Send a pull request to be approved by the funder.
Get paid with PayPal
When funder approves we release Payment immediately to your PayPal. NO Hold
Tiny Platform Fee
We only charge 5% flat for each transaction as a Platform service fee
We Make it Easy to Connect With Talented Developers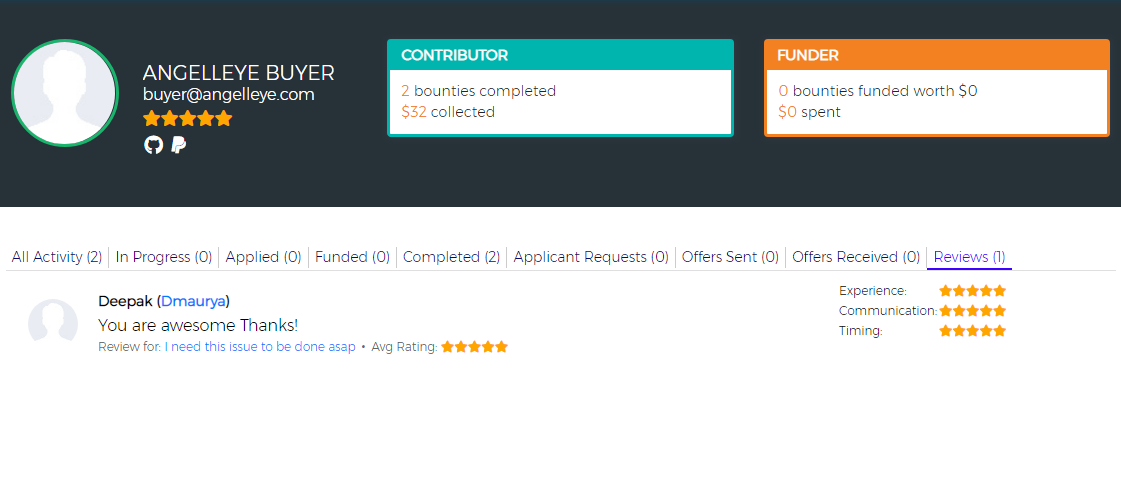 It's easy to find developers with different level of knowledge and experience in different technology with reviews and rating they gained for their past work.
Fund an issue to start receiving the contributor request.
Are you a Developer?
Join The Team
Explore & Apply on Bounties
Make offers on Issues
Secure Payments
5% Small transaction fee only when you earn.
Get Paid directly in your PayPal without any Hold.
Pay only when you earn, It's FREE to apply on available bounties.
Earn reviews by providing a Good Work, that can lead to more work.
GitOffers for Developers
GitOffers extension allows developers to send the customised offer on any Non-Funded Git Issue. It's an extension available for Chrome and Firefox browser. That makes it easier to send the offer while you are browsing the Git Issues on GitHub. If Project Owner accepts the offer, Offer becomes as bounty with the agreed amount. 
Some of the great features of GitOffers:
Send offer while you are browsing git issues.
Communicate with Project Owner via GitCommits.
You/Project owner can Counter the Offer.
No fee to send an Offer.
I was struggling with finding a better developer to get my website issues done, then i found out GitCommits, I have received plenty of application with different level of knowledge and budget, Discussed with few developers and got my Job done. I am using this platform to get my daily development jobs completed quickly.
Awesome developer base, I have funded few Issues and started receiving application request within few minutes. Discussed different issues with multiple developers and got my backend feature done within few hours. Thank you GitCommits for putting all this together, We are happy with the developer base you have on your site.
I have found experienced developers with a fine budget. I have received multiple offers for different Issues to complete them, even though i have never funded them on GitCommits until i received the offer from developers. It was awesome experience to receive those offers and tasks finished as discussed.